Yesterday, I got to do one of my most favorite things! The person loaded me up in the car with the bf and drove us to a truly wonderful place, the canal! Between Lake Olmstead the Augusta Canal and Savannah River are tons of wooded trails with lots of great sniffs. We used to come here a lot during the winter, but now that the weather has warmed up, we have to look out for snakes and other beasts.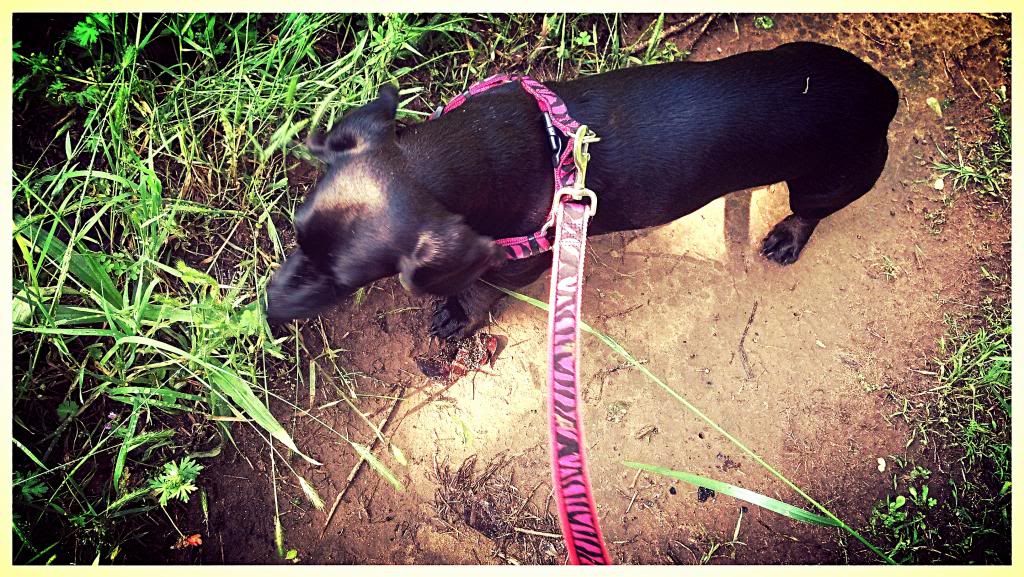 At the trailhead, there was a pair of little chihuahas who rubbed me the wrong way, but I politley walked past them as they strained toward me on their leads
(Even if her fur became a little bristled...)
It was a beautiful day, although a little warm compared to the weather lately. I just wanted to RUN the whole time! So I had to have a little loose leash walking reminder at the beginning of our trek...but I was rewarded with lots of sprinting through the wooded trails, all the way to the river!
Swampy area near the canal

The day before yesterday, on a different walk, I met a very silly duck! (He closely resembled one of my favorite stuffies. I wanted to ask if they were related, but he did an about face as soon as he saw me!) It has been raining all day, but the people really wanted to walk, so we took off on another adventure on the greenway. We made it all the way to Brick Pond Park before getting caught in a downpour. My friend the duck was digging in the weeds at the edge of the swamp, but as we took cover under a lookout shelter built across the swamp, he started walking up the bridge towards us!
Hey, where is that stuffie anyway?? Fetch!!! If you'll excuse me, I have a duckie to find.

Susie Q