Well, it's been entirely too long since my last post, through no fault of my own. Between Erin getting sick, studying for finals, and getting ready for graduation, she's been less than helpful with the blog. I guess that's understandable and all, but I've made her promise to be more diligent with updates in the future.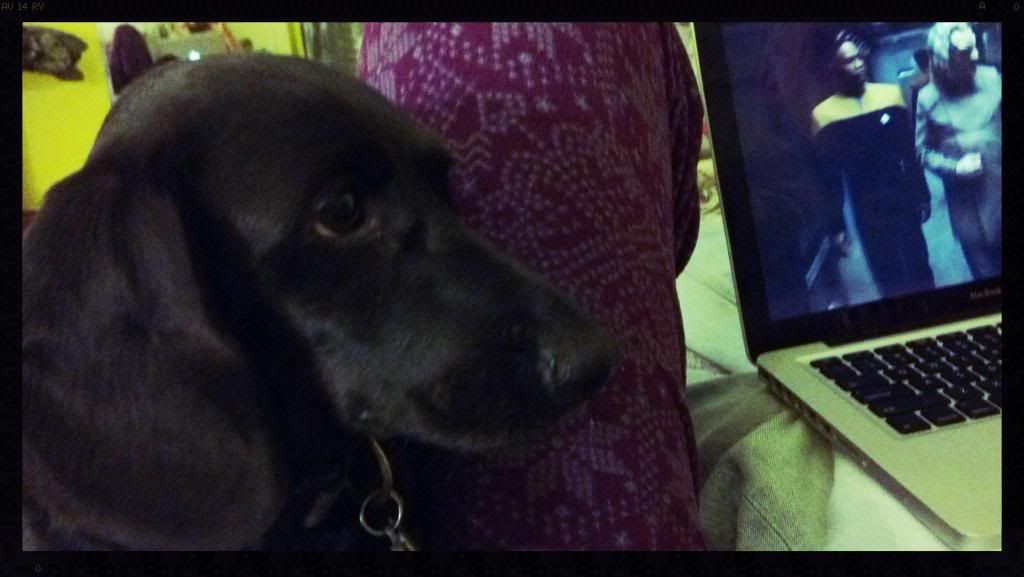 I tried to tell her to quit watching Star Trek and let me get on Blogger. Sure looks like she's studying pretty hard, huh?
All of these things have kept us from having too many adventures lately. It's been pretty boring, if you ask me. In other news, Erin recently purchased a hammock, which Fetch really adores. I gave it a try myself and I have to admit, it's pretty cozy (especially when you sit ON the person in the hammock)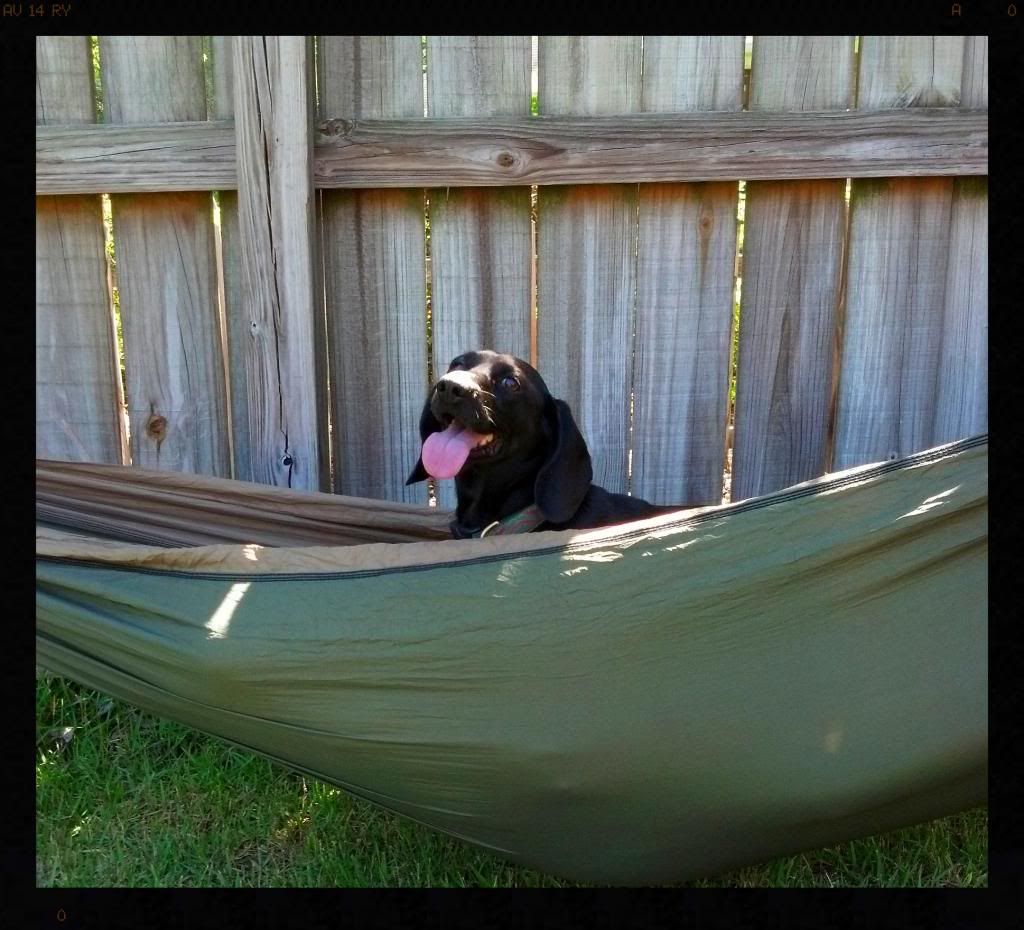 Not too bad.
Erin and the blonde guy took Fetch for a hike down to bluffs a few days ago, which I was NOT happy about. They set up the ENO (hammock) between two trees by the riverside and, according to Fetch, had a very rexaing day. Of course, after he got a few sniffs he was snoozing away in the hammock...
What's the point of taking him on a hike if he just sleeps the whole time?!?? Sigh...
While out near the river, the blonde guy, Matthew, accidently disturbed this scary looking cottonmouth/water moccasin slumbering underneath a rotting log. Luckily, he wasn't aggresive as they are reputed to be. I think they may have woken him up for a nap.
Erin: I was shouting at Matthew to get away from it as soon as I spotted it, as my dad has drilled it into me that water moccasins can be pretty mean snakes, but of course he had to snap a picture first.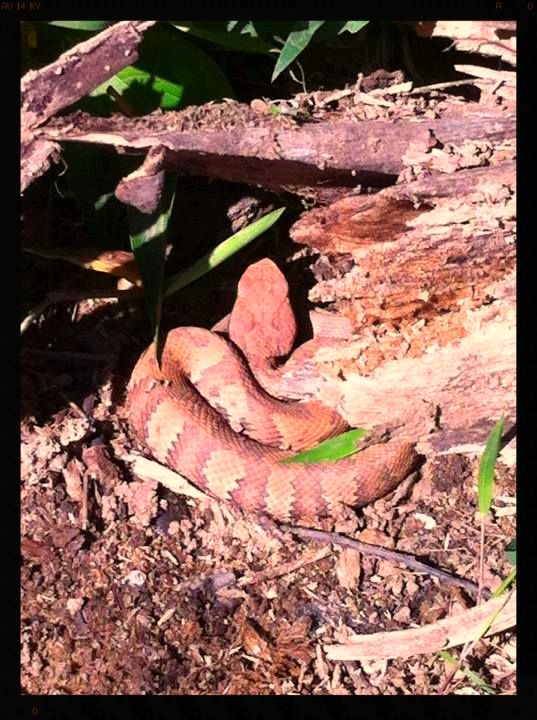 Even
I
wouldn't want to mess with him. Meanwhile, I was laying out in the backyard, getting some sun.
Belly Rub?
And finally, Happy Memorial Day! Fetch was sporting a festive bow tie today in honor of the holiday.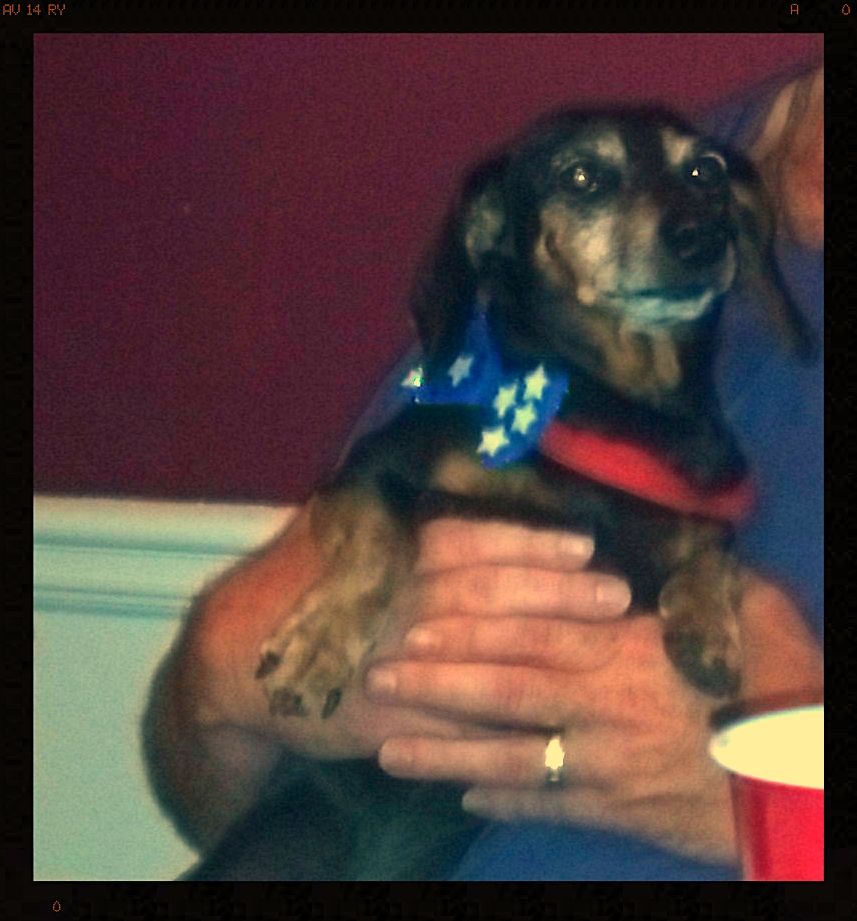 Even I have to admit he does look kind of snazzy.
That's all for now! Susie Q signing out