Hello Everyone!
So we're new to this whole blogging thing, and have been pretty slack about passing on the awards we've been nominated for. This post goes out to
WordsWithWeiners
and
Life as a Champ
and for our nominations!
WordsWithWeiners
nominated us for the
Super Sweet Blogger Award
on May 20th and we've been embarassingly tardy with both thanking Pam and passing the award along, so please forgive us! We're very grateful to Pam for not only giving us one of our first comments, but also our first blogging award.
Us doxies are all about sweetness of course: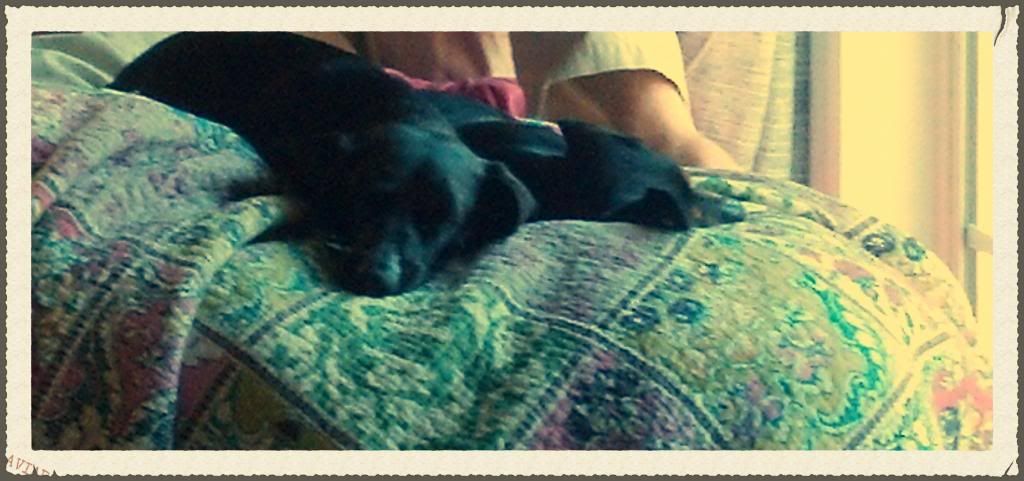 Snuggling super sweetly
Now onto the award
!
They're five short and sweet "rules" for recieving this award:
#1
Thank the Super Sweet Blogger who nominated you. Done!
#2
Answer five super sweet questions.
and Check!
#3
Include the
Super Sweet Blogging
award image in your blog post.
See Above
#4 Nominate a baker's dozen bloggers to receive the Super Sweet Blogging Award It took a while, but we discovered a lot of, erm, sweet blogs in the process!
#5
Notify your nominees on their blogs.
Starting this now
Onto to the questions! We'll let Erin take over for the rest of the post:
Cookies or cakes? Cakes, especially caramel or red velvet!!
Chocolate or vanilla?

Vanilla. Yes, I know, boring..

Favorite sweet treat? I've always been a sucker for brownies, particularly of the brownie mix box variety
When do you crave sweet things most? At night. I'm a fiend for a midnight snack. The doxies, however, have informed me that it's never the wrong time for a sweet treat!
Sweet nickname?

Hahaha. Hahahahahaha. Haha. I have none, but the doxies and cat are subjected to a whole gambit of nicknames, from tibbles (Tyger) to Kazoo (Susie) and everything in between. Of course, they often bear no relation to their actually names...
Liebster Award
Life as a Champ nominated us for the Liebster Award on June 23rd. I absolutely adore all the recipes on your blog, although it's definitely raising the doxies' standards! I was also really impressed with all the books on your "bookshelf;" I spotted a few of my favorite and now have some to add to my list!
This award is for newbies like us, so the nominees must have 200 or fewer followers. Along with this requirement, you must:
#1 List the nominator's blog on your blogroll with a link. Done
#2 Answer 11 questions asked by your nominator:
1. What are your favorite non-food smells? Sweaty horse, coastal hay, sea breeze, Newsprint, pine, baked goods, puppy/kitten breath
2. More importantly, do you like the smell of dog paws? I've come to terms with it
3. What are more repelling, spiders or snakes? Snakes, oh man, they really freak me out. I know, I know, they're more afraid of me than I am of them, etc, etc, but we've got a lot of cottonmouths and rattlesnakes around here, and I'm really paranoid as it is.
4. How many kinds of pets do you have? Two dogs, one cat
5. Do you have middle names for your pets? ...yes. Susie's is techincally "Q," but we sometimes call her Susan B Anthony in jest, or Susie "B" Q. I gave Fetch the middle name "Sniffer" when I was about 5

6. What is the best prank you've ever pulled? Well, this sounds really awful, and I do feel kind of bad about it now. I share a bathroom with my brother and have for a few years, and he used to be really bad about peeing on the toilet seat, which, understandabley, made me really mad. Well, the parents weren't much help in getting him to change his ways, so I decided to take matters into my own hands... So, I used his handtowels (used for face washing, which, incidentily, were on the bathroom floor anyway..) to mop up the toilet seat after he struck, and as soon as I informed him of my tactics (after a few days... ) he immediately quit. So, I do feel kind of repentant, but at the same time, it worked.. Yes, I train my brother far more harshly than my dogs. I'm strictly Positve Reinforcement, Negative Punishment with them ;)
7. What was the name of your first dog? Brandon, my dad and his sister got a brother and sister from a litter and named them Brandon and Brandy.
8. Have you been to the Pacific NW? No, but I've been to the Pacific W!
9. Have you ever ridden a horse? Indeed
10. Do you prefer buttered popcorn or kettle corn? Kettle corn, everytime
11. If you could be any living person in the world for a day, who would it be? Me :)
Provide 11 random facts about yourself:
#1 I'll be starting college in the fall at the University of South Carolina, pursuing an English major (which means I'll be an hour away from the pups, since I have to live on campus the first year. I've already been working on getting the dogs ready for "city" life for the next year, when I'll bring them up with me)
#2 I spend too much time at the used bookstore
#3 I'm a DogForum addict and a longtime lurker
#4 I'm a vegetarian and have been for 3 years, although I would never try to push that onto my pets. Unlike me, they need meat to be healthy.
#5 I love horses and horseback riding, although I'm currently horseless after having to rehome my thoroughbred in the wake of going to college this fall, which wasn't the original plan and which makes my foresight seem pretty poor, but life tends to happen and I hope to get back into riding soon, even if I won't be owning again for many, many years to come.
#6 At 18, I'm still afraid of the dark
#7 I'm a trekkie and Captain John Luc Picard is one of my greatest idols
#8 I'm a literary nerd/snob with a taste for classics. I can't recall the last book I read from the 21st century.
#9 My favorite food is baked ziti
#10 I love hiking/camping/backpacking, and will be taking a camping trip to the mountains soon, and hopefully bringing Susie along if we can find some dog-friendly hiking (if only most national parks allowed dogs!)
I was hoping to bring her along on my senior trip, but we ended up backpacking on Cumberland Island, an undeveloped island off the coast of Georgia with only a few buildings and inhabitants, which is owned largely by the national park service, so, sadly, no dogs allowed on the ferry or in the campgrounds, which basicaly means no dogs allowed.
#11 Iron & Wine is my favorite band and I hope to see him live this fall when he comes to Atlanta!
Moving on! Nominate 11 qualified blogs (less than 200 followers) for the Liebster Award and let them know through a post on their blog page Doing this now
Provide a set of 11 questions for the nominated blogs to answer:
#1 What's the first book you ever read? If you can't remember, what's your favorite?
#2 What's your favorite summer time activities?
#3 Rainy days or sunny days?
#4 What's the farthest you've ever traveled from home?
#5 Any weird quirks?
#6 What's the weirdest thing you've ever eaten?
#7 What's a dog breed you'd like to own someday?
#8 What's your dog's/cat's "color" (for collars/leashes/etc)
#9 How did you get your current pet(s)?
#10 What's your favorite time of day?
#11 Favorite way to spend your time?

And: Display the award on your blog! done!
For both the Super Sweet Blogger Award and the Liebster Award:
4.
My Dog Diaries